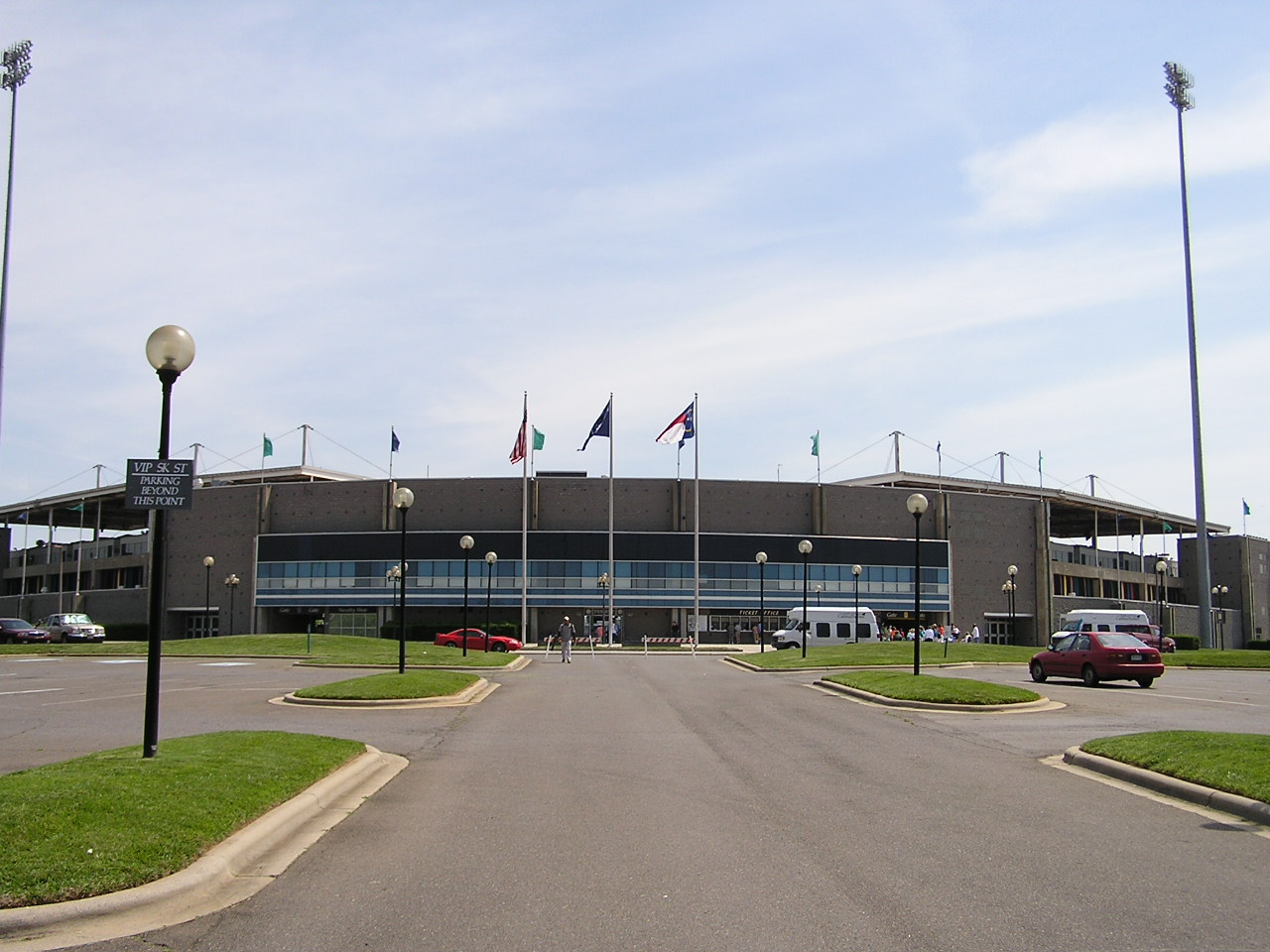 TEAM ::: CHARLOTTE KNIGHTS
LOCATION ::: FORT MILL, SOUTH CAROLINA
MY FIRST VISIT ::: MAY 16, 2005
OPPONENT ::: BUFFALO BISONS
LEVEL ::: INTERNATIONAL LEAGUE (AAA)
RATINGS

BALLFIELD ::: A+
SCOREBOARD ::: B
FOOD :::B
FACILITIES ::: A
MASCOT ::: B-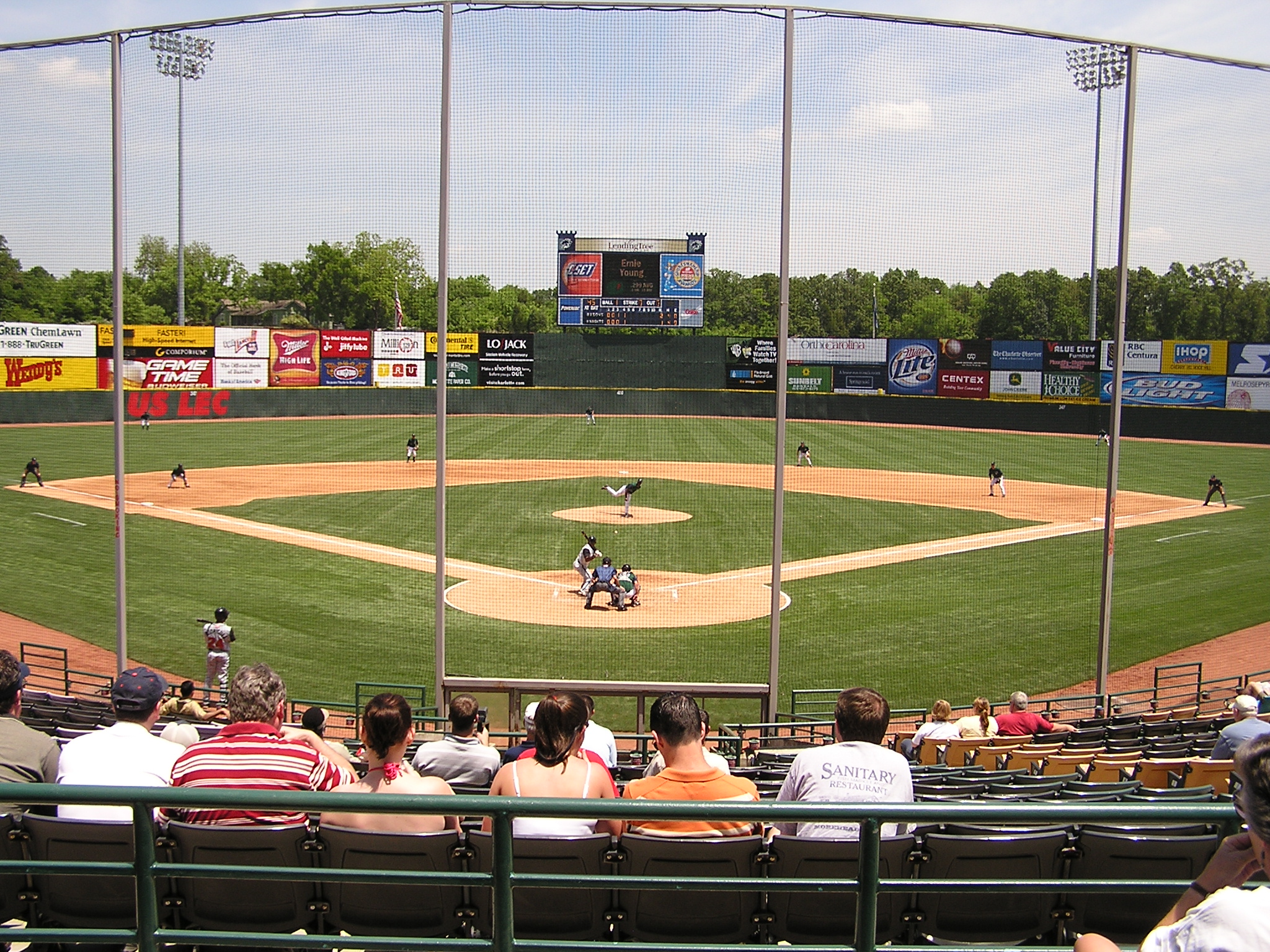 MY TAKE ON THE PARK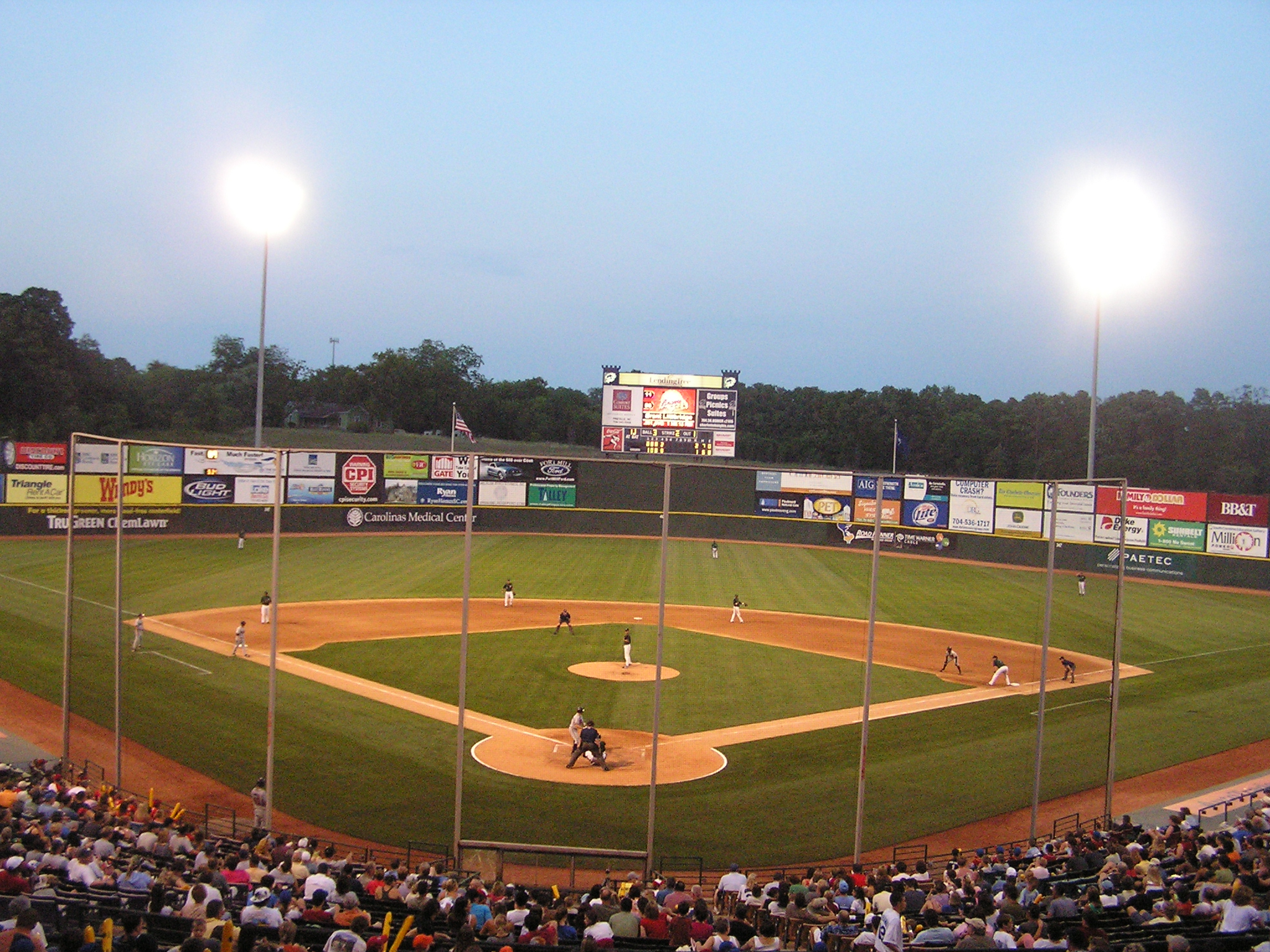 CHARLOTTE LOOKS LIKE A NICE ENOUGH CITY, SUPPORTS AN NFL TEAM FOR 8
GAMES A YEAR BUT IF YOU WANT TO SEE BASEBALL, YOU HAVE TO LEAVE THE
STATE AND HEAD 10 MINUTES SOUTH TO SOUTH CAROLINA. THE EXIT FOR FORT
MILL, WHICH I'M THINKING IN A FEW YEARS WILL BE A LOT MORE POPULATED
THAN IT IS IN 2005, WILL GET YOU TO KNIGHTS STADIUM. AN EASIER LANDMARK
MIGHT BE THE GIANT BASEBALL WATER TOWER LOCATED RIGHT OFF THE STADIUM
PARKING LOT, AND IS VISIBLE FROM THE HIGHWAY.
AN EXTENDED ENTRANCEWAY, WHICH LOOKS LIKE A WORK IN PROGRESS FOR A
FUTURE OFFICE COMPLEX OR MAYBE THEY WILL JUST LEAVE THE TREES, TAKES YOU
TO A LARGE LOT WHERE FRIENDLY LOT ATTENDANTS TAKE $2 AND LET YOU PARK
WHERE YOU WANT. A SIMPLE GRAY BUILDING SITS BEHIND THIS LOT, DOWN THE
LEFT AND RIGHT SIDES OF THE BUILDING, IN THE UPPER DECK AREAS, DIFFERENT
COLORED DRAPES ARE HUNG TO LIVEN UP THE EXTERIOIR. ONLY THE LIGHT TOWERS
LET YOU KNOW THIS IS A STADIUM.
THROUGH THE TURNSTILES SENDS YOU TO A SPACIOUS CONCOURSE WITH CONCESSION
STANDS ALONG THE WALL AND NOTHING BUT A VIEW OF THE FIELD ON THE
OPPOSITE SIDE.
ENOUGH CANNOT BE SAID ABOUT THIS FIELD, A THICK DEEP GREEN FIELD WHICH
SHINES ON A LATE SPRING AFTERNOON.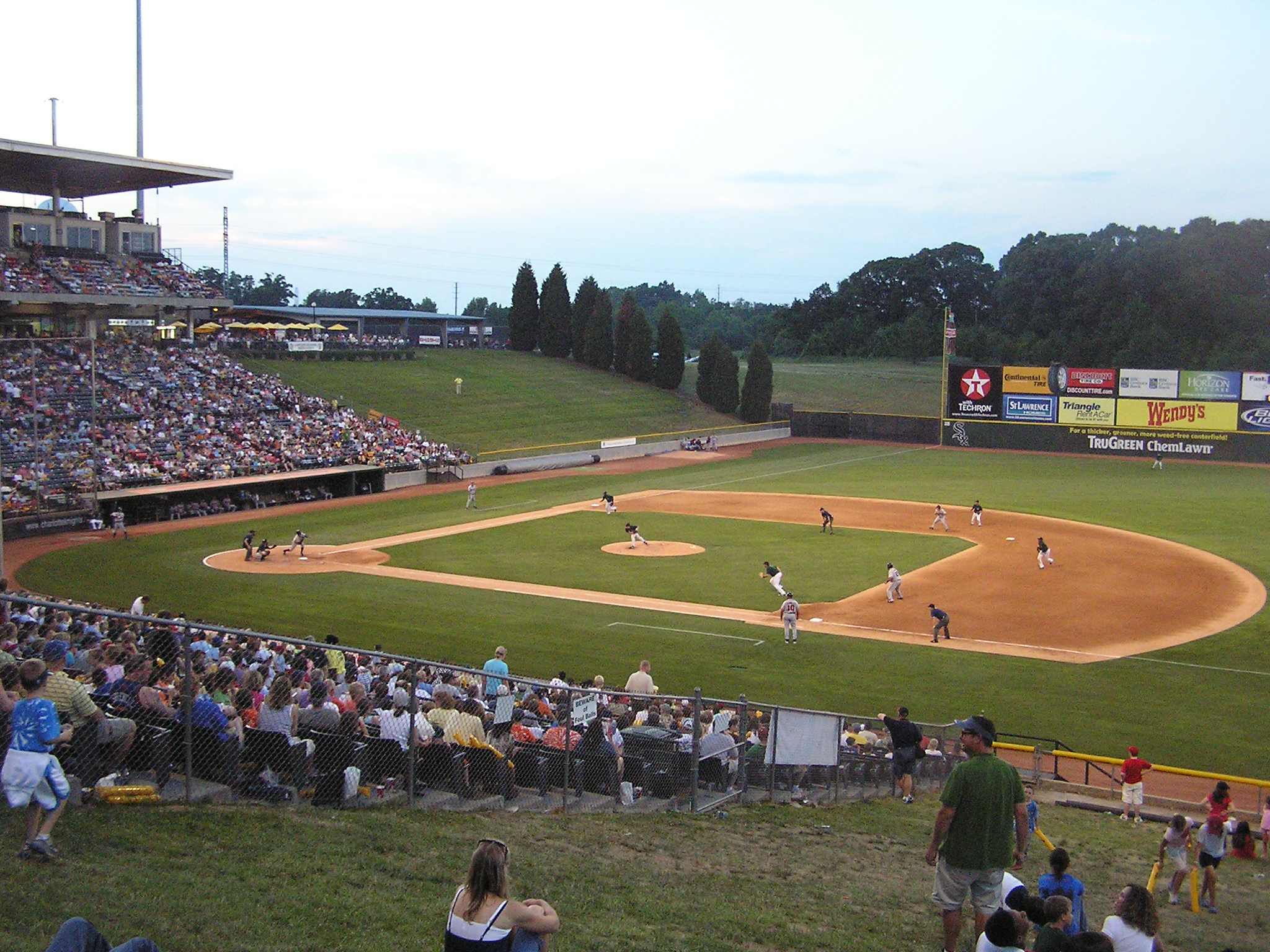 SURROUNDING THE FIELD, HOWEVER, IS A TWO LEVEL SEATING AREA WHERE THE
SEATS ARE BLACK. BLACK SEATS IN SOUTH CAROLINA!??!
IS IT ANY WONDER THEY DON*T PLAY TOO MANY AFTERNOON GAMES?
SITTING IN THE LOWER LEVEL THE SUN
REALLY GETS YOU, YOUR BEST BET IS TO SIT IN THE UPPER DECK WHERE THE
SEATS ARE AN ARRAY OF RANDOM COLORS BUT THEY ARE COVERED FROM THE SUNS
RAYS.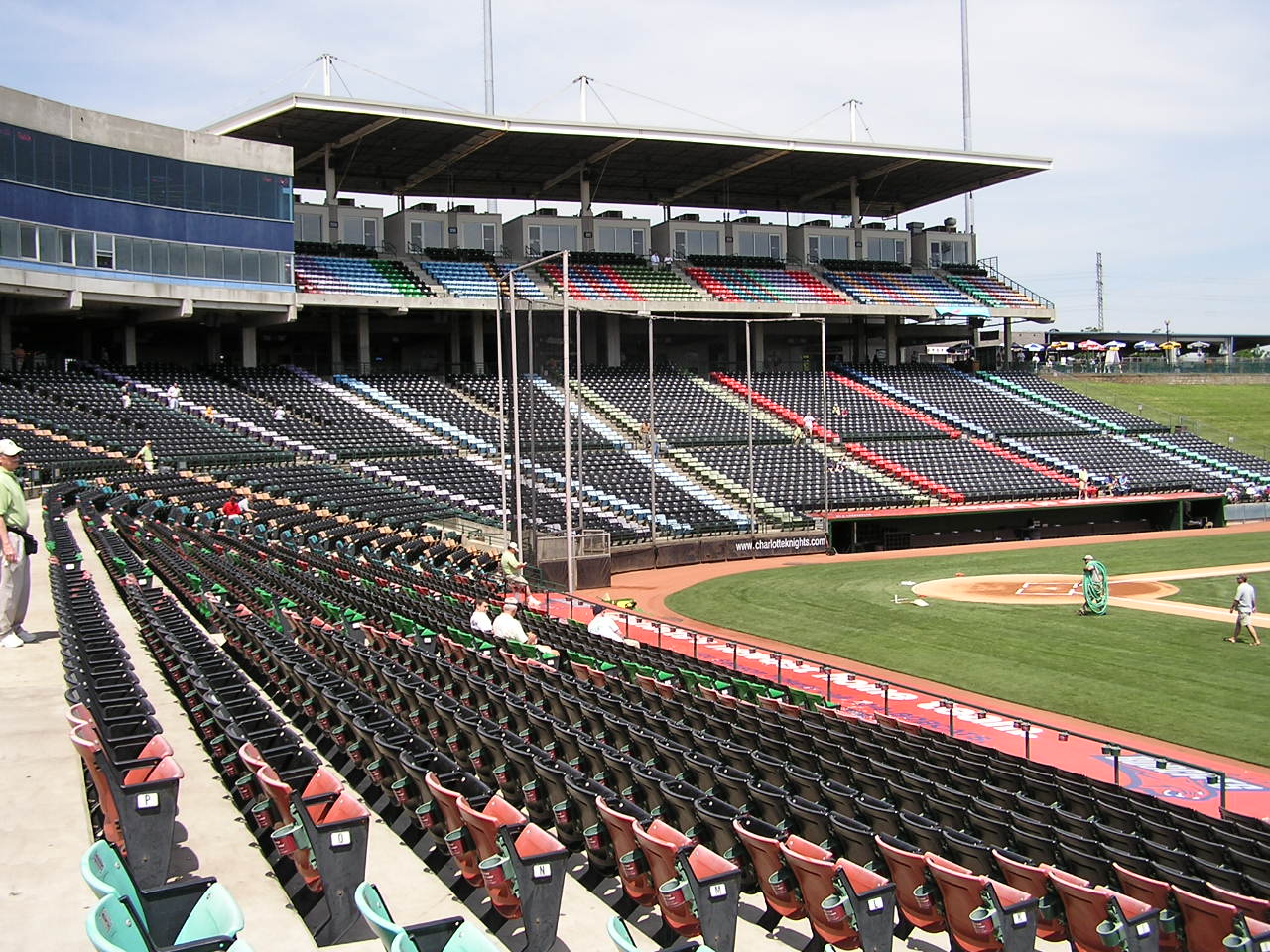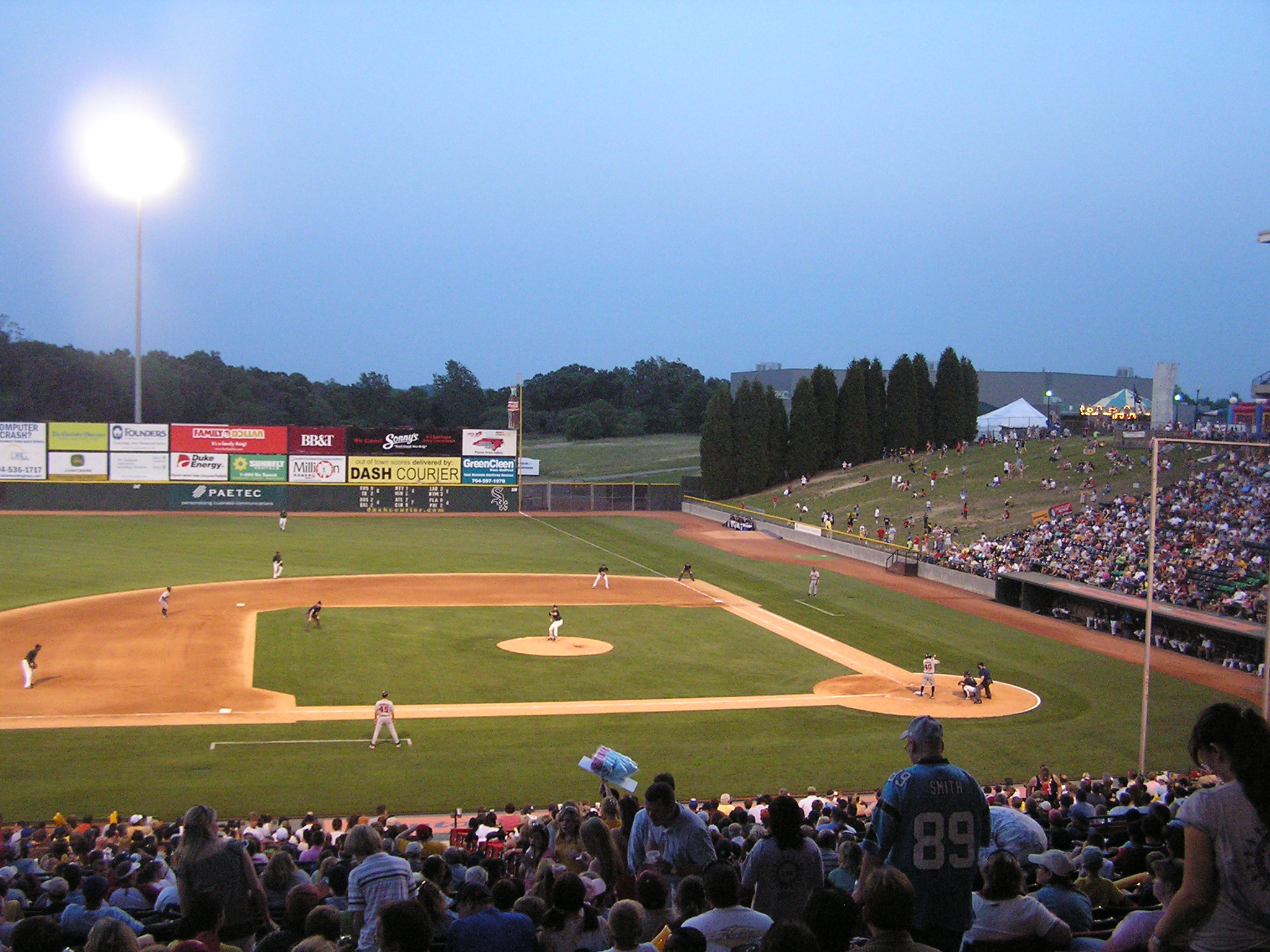 TO LIVEN UP THE LOWER LEVEL, THE 2 SEATS ON THE AISLES ALL THE WAY UP
ARE A DIFFERENT COLOR, I GUESS THE SECTIONS ARE COLOR CODED, BUT I
DIDN'T NOTICE ANY FORMAL NOTICE TO THAT.
AS FOR THE STADIUMS AMENITIES, THE FOOD IS OK AND THE COST IS AVERAGE
MINOR LEAGUE. THE PROGRAM IS $3 BUT YOU DON'T NEED IT FOR A SCORECARD,
WHICH IS FREE ALONG WITH A STAT SHEET AT THE FAN INFORMATION BOOTH.
THE MASCOT, HOMER, DOESN'T DO MUCH EXCEPT RUN THE BASES WITH A LUCKY FAN
AND THEN SIGN AUTOGRAPHS IN THE KIDS SECTION, WHICH INCLUDES A
MERRY-GO-ROUND, AFTER THE 7th INNING.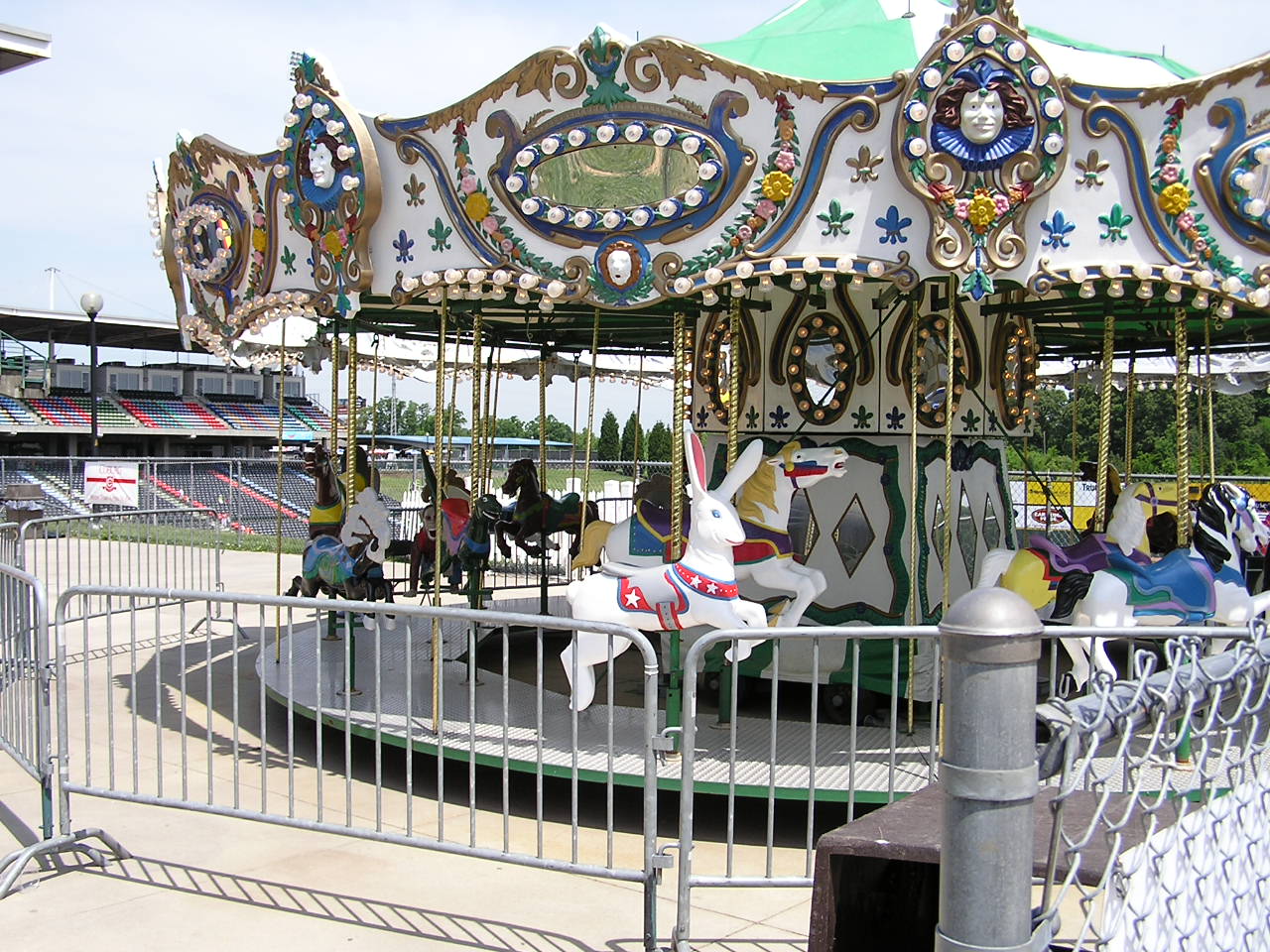 A TRIP TO CHARLOTTE IS AN UNDERRATED EXPERIENCE. MUCH HAS BEEN SAID FROM
THE TEAM THAT THEY WANT TO MOVE TO THE CITY, PROBLEM IS THEY HAVE A
COMFORTABLE COLORFUL STADIUM ON THE OUTSKIRTS OF TOWN THAT IS IN THE TOP
3 OF TRIPLE A BALLPARKS I HAVE VISITED. SO, TRIPLE A BALL MAY NOT BE IN
CHARLOTTE MUCH LONGER, BUT AS LONG AS IT IS, HEAD OUT TO KNIGHTS
STADIUM, IT IS A GOOD PLACE FOR BASEBALL.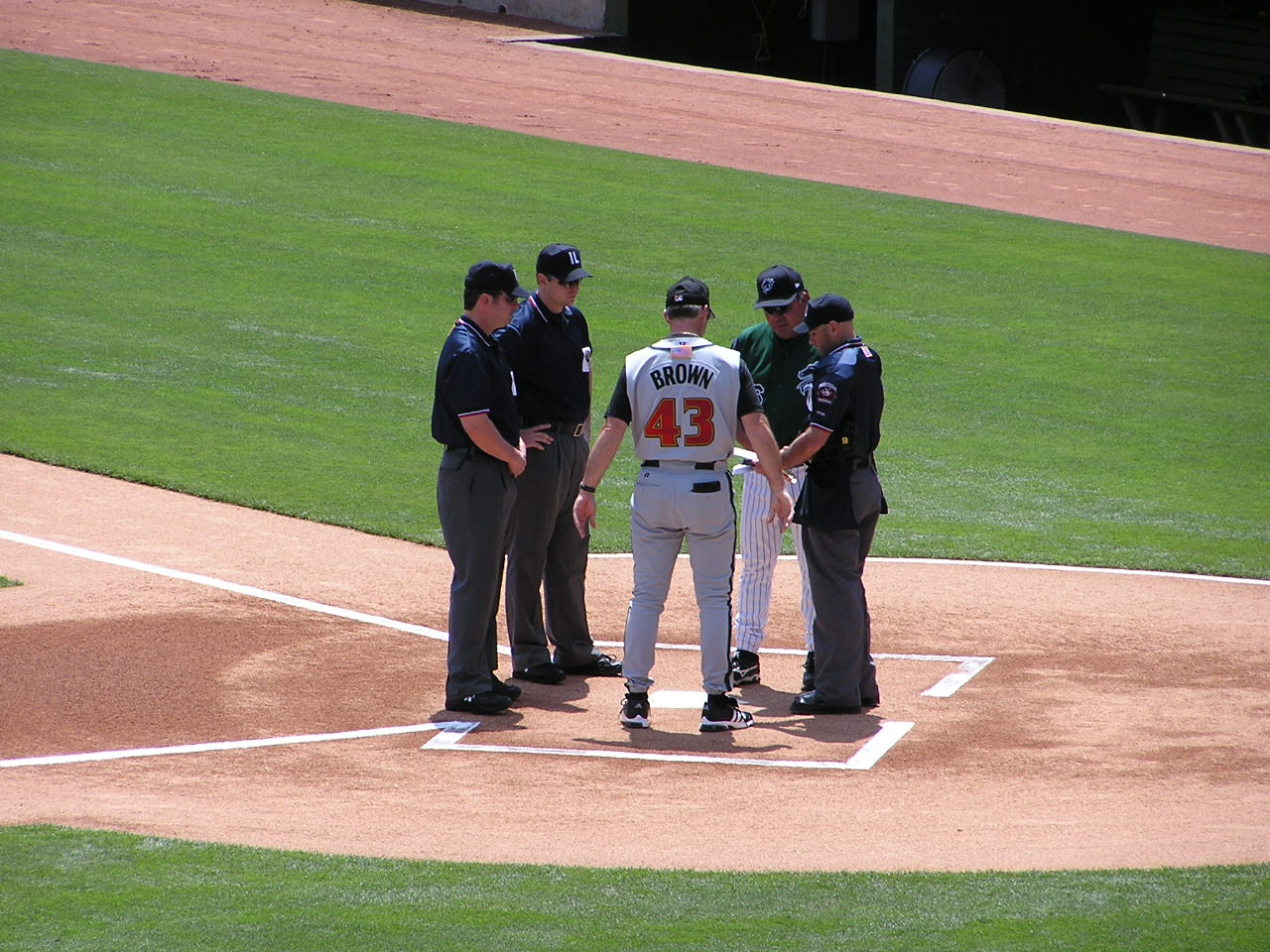 THE LINE UPS

BUFFALO BISONS MANAGER :::
43 MARTY BROWN
CHARLOTTE KNIGHTS MANAGER :::
16 NICK LEYVA
BUFFALO BISONS

7 Brandon Phillips ss
37 Jody Gerut cf
15 Mike Kinkade dh
13 Jeff Liefer 1b
12 Ryan Garko c
45 Ernie Young lf
24 John Rodriguez rf
22 Jake Gauteau 2b
4 Jake Thrower 3b
31 Brian Tallet p / WP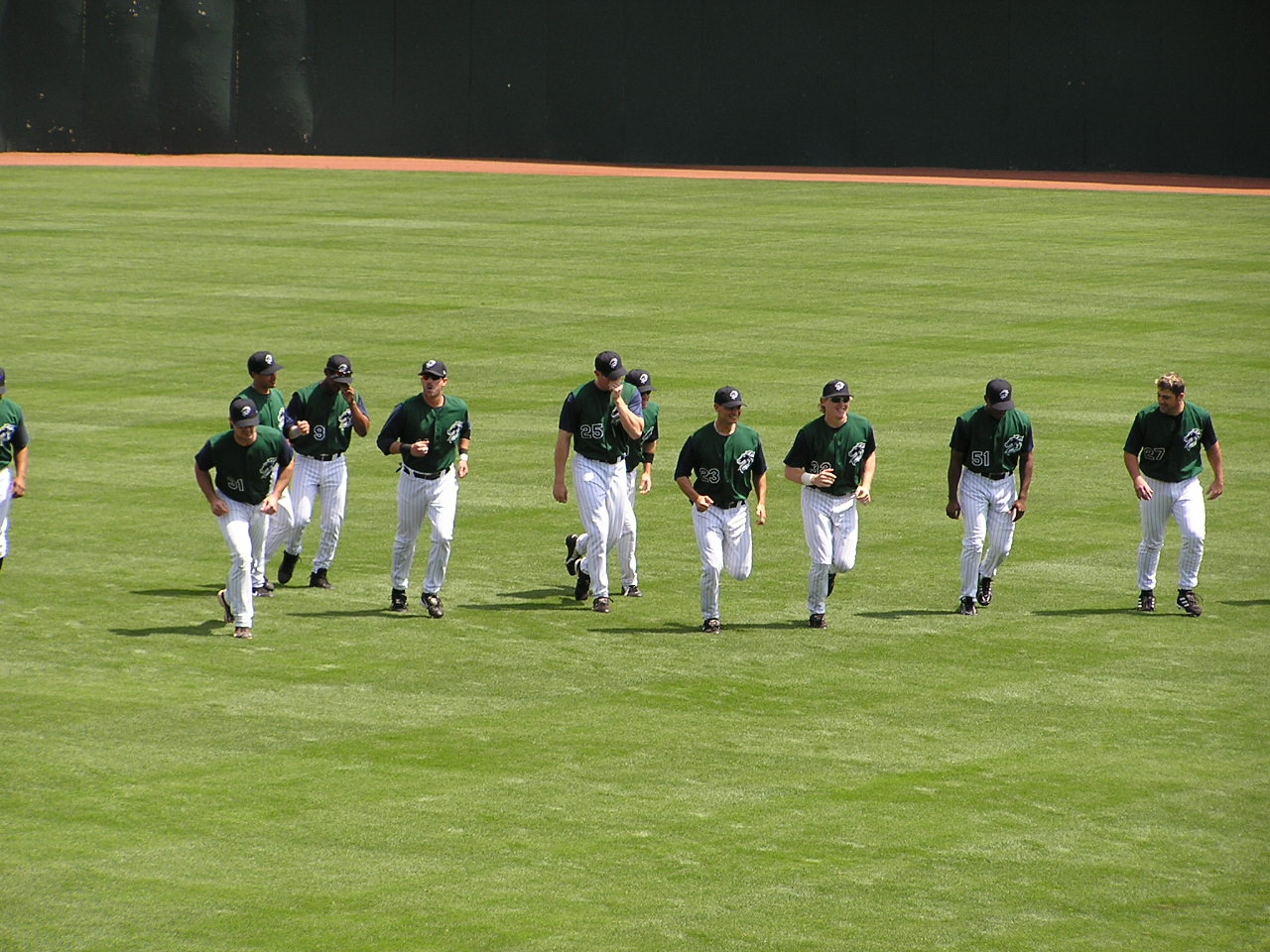 CHARLOTTE KNIGHTS

5 Micheal Spidale dh
10 Ricky Gutierrez 3b
51 Roosevelt Brown lf
32 Brian Anderson cf
11 Greg Norton 1b
27 Jamie Burke c
25 Joe Borchard rf
29 Trace Coquillette 2b
7 Pedro Lopez ss
38 Felix Diaz p / LP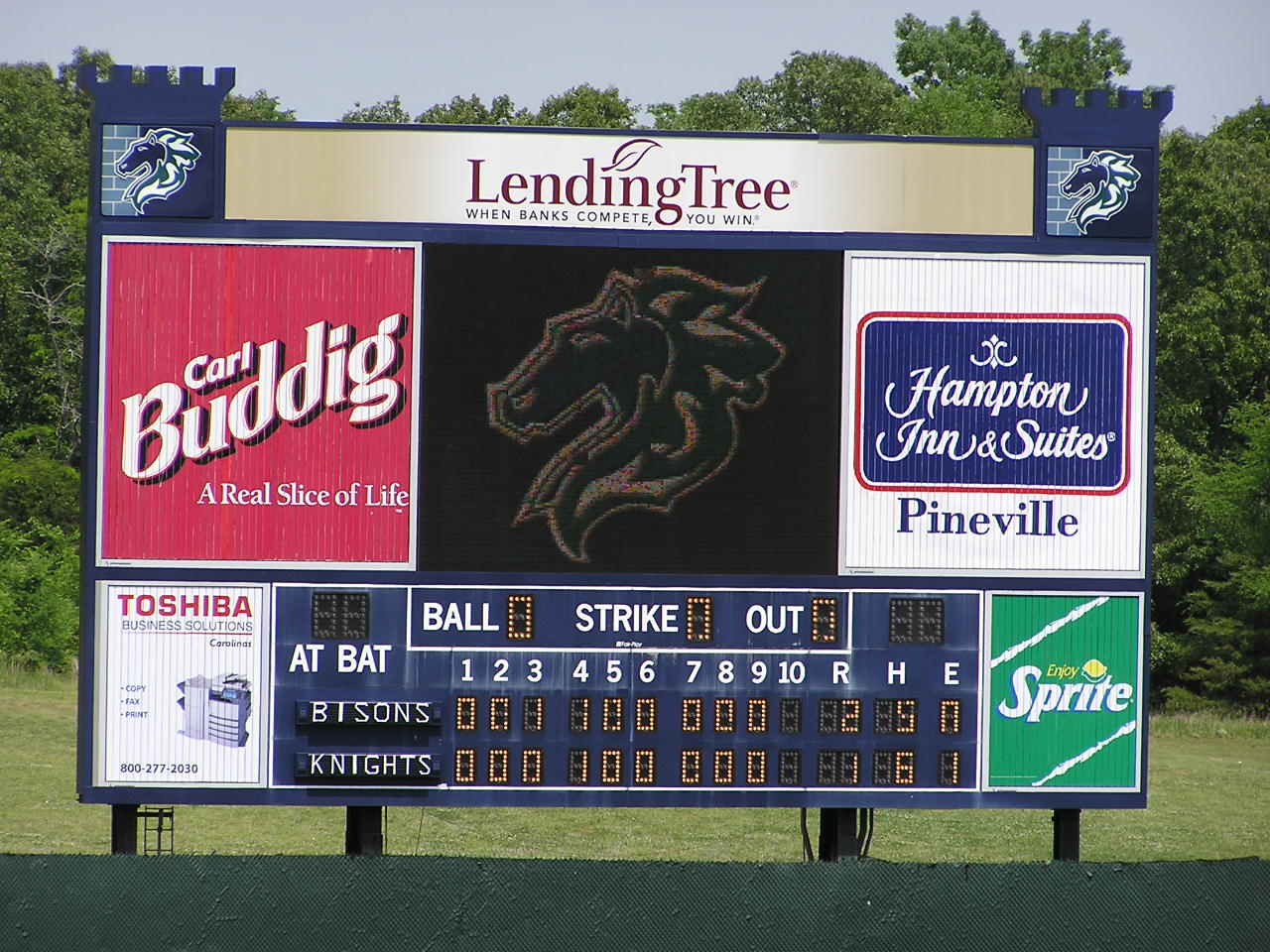 BUFFALO BISONS 001 100 000 2 5 0
CHARLOTTE KNIGHTS 000 001 000 1 6 1
TIME ::: 2:29
ATTENDANCE ::: 2,212
WEATHER ::: 71 SUNNY PERFECT IN THE SHADE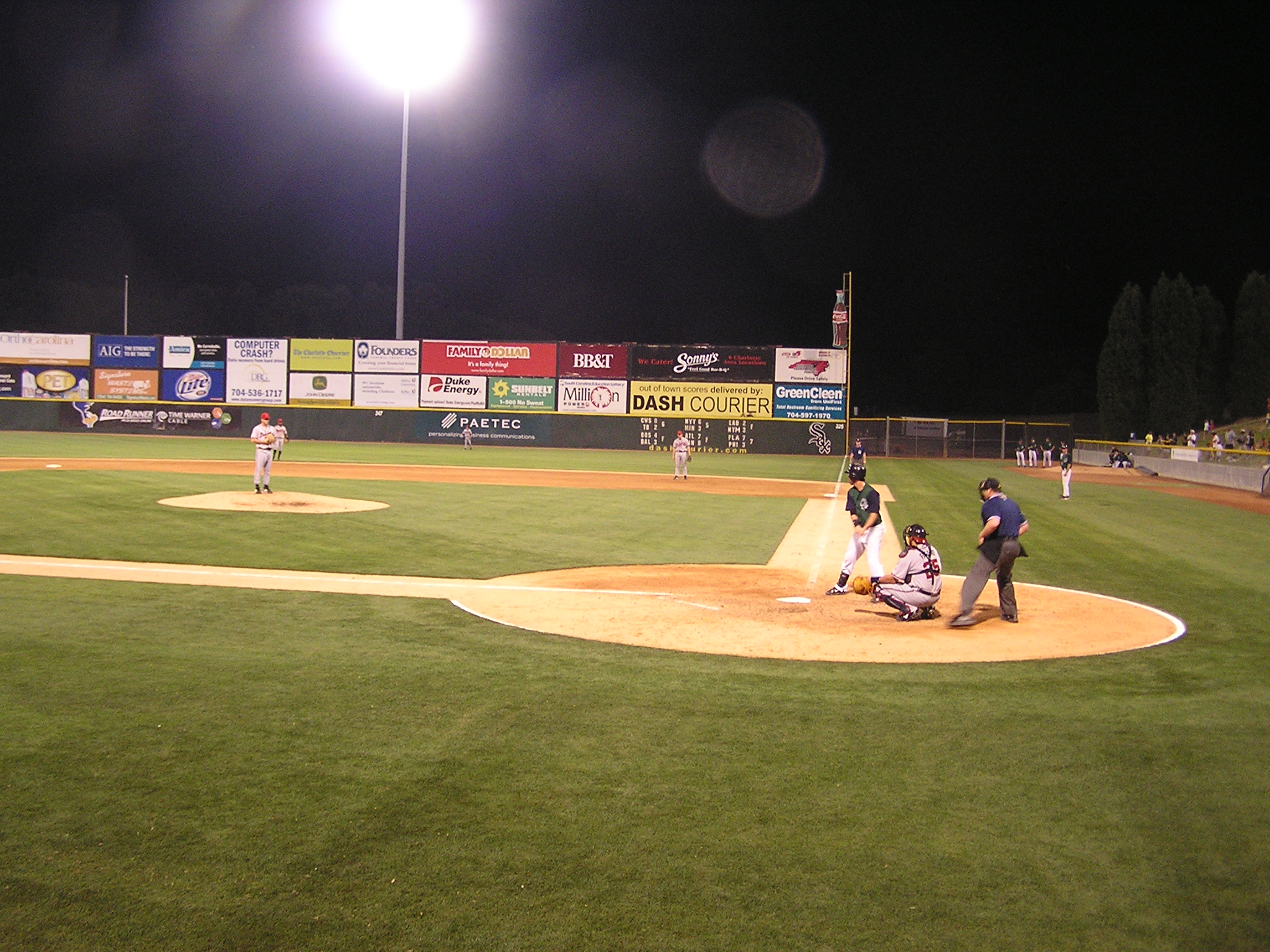 SEND ME AN E-MAIL

LINKS
The Official site of the Charlotte Knights
Some real good Carolina BarBQ near the airport in Cahrlotte - The Bar-B-Q King
Fort Mill weather from WEATHER.com
Site was last updated